Business growth is what we all strive for, but it can also present challenges. As your business grows and changes, how do you make sure you have the space and resources to continue meeting the needs of your clients? Do you need a virtual office? A satellite office? More space? Someone to help with admin work?
Use this handy guide to help you decide.
Virtual Office

A virtual office or virtual image plan gives you the professional look of a brick and mortar without the commute. You buy a plan that includes any or all of the following:
• Telephone number with voice mail
• Receptionist and call screening
• Access to conference rooms and Ready Room (private, fully-outfitted office)
• Professional mail sorting and handling
• Access to all support services
A virtual office is a great idea if you:
• Are a small business owner who wants to project a professional image but doesn't need a brick and mortar location.
• Are based in another area but want a local address and phone number.
• Need reception services, but don't have the budget for a full-time receptionist.
• Only rarely need a space to meet clients.
Physical Office
A physical office space offers a physical location for you to work and meet clients. In a professional building with plenty of parking, turnkey offices come with everything you need to do business, including:
• A desk and office chair
• Professional office management
• Staffed reception during business hours
• State-of-the-art digital telephone system
• High-speed internet
• Beverage service, microwave, and refrigerator in kitchen area
• Janitorial and HVAC services
• Free parking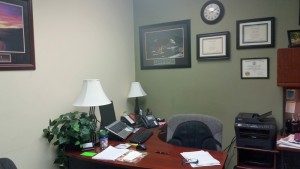 A physical office is a great idea if you:
• Need space for your or your team to work
• Are based in another area and need a satellite office
• Often need to meet clients or groups of clients
• Need reception services
• Want a physical office but don't have the time or money to maintain office equipment
Both types of offices are great for making your business look more professional and operate more efficiently.
Call Jackie today to learn about our imaging plans or find out which offices we have available: 757-313-6633.