If part of your business is meeting regularly with clients, then your work space may need to double as meeting space for face-to-face meetings. If you want clients to feel comfortable and leave with a good impression of you, you need to create a space clients will love to visit.
It's like welcoming guests into your home, you want them to feel comfortable and not like they're intruding. So how can you balance your work needs with the needs of your clients to create an office your clients will love to visit:
Make it Easy for Clients to Get to You
Before clients walk through your office door, they first have to get in their car and drive to your office. You can't control traffic, but you can help make the experience of parking and finding you as easy as possible.
If you have a big, free parking lot and an on-duty receptionist, like we have at College Park Executive Suites, you don't have to think about this too much.
But if you're in an office building in the center of town where parking is a challenge, let your client know ahead of time. Put parking recommendations on your website or include them in the confirmation email for the meeting.
Also, make sure you give your client clear directions for how to find you. That means including the floor and suite number, not just the building address.
Dedicate a Space for Client Meetings
Resist the urge to just pull up an extra chair next to your desk. Facing your computer while you talk to a client can make them feel like you're not paying attention. You want to be able to make eye contact. If you absolutely need a computer to take notes, consider using a laptop, which is smaller and less obtrusive.
Ideally, you'll create a dedicated meeting space in your office. It doesn't have to large. All you need is a pair of chairs and a small table. Make sure the chairs are of equal height, so neither of you is looking down on the other. A small table can give your visitor a place to take notes or just set a drink during the conversation.
If you're thinking, my office is way too small for that, don't worry. You can get creative.
Can your small meeting table double as a task table? Do you have room for at least one extra chair? Can you rearrange your office so you can talk to clients across your desk without a computer between you?
The real goal here is to be able to make eye contact and help the client feel like your full attention is on them.
Make Clients Feel Like Guests
Treat your client like a guest in your home. Offer to take their coat and put it wherever you put yours. Some large command hooks on the back of a door make a great place to hang coats and purses, or splurge for a standing coat rack.
Offer your guests a hot or cold drink. Even if you can only offer them water, the gesture will be appreciated, and the time you spend getting their water will give them a minute to get settled.
Once they have their beverage, make sure they have a place to set it down while they talk or take notes. That's where your small table comes in handy.
Share your Personality
There's nothing welcoming about a bare office. Bring some warmth and personality into your office space by hanging posters or informational materials on the walls. This is especially important if you don't have windows.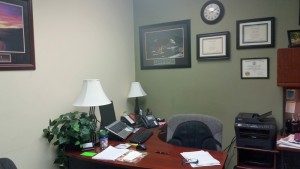 A small accent rug can warm up a space as well. For a truly homelike feel, you can bring in lamps so you can avoid using the harsh florescent lights.
You want to look professional, but not cold.
Don't forget to clean up a bit before guests arrive. Cups, paperwork, and sticky notes may pile up while you're working. Make sure you sweep at least some of those things out of sight before you receive a client.